MentorInn: Design Thinking Pitch Day in Dortmund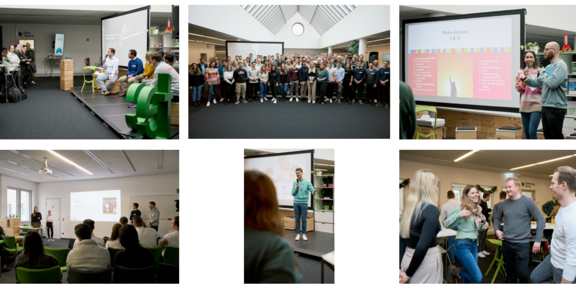 Students and university teachers from the UARuhr met at TU Dortmund for the kick-off of the MentorInn project as part of the Ruhr School Of Design Thinking. Supported by the "Stiftung Innovation in der Hochschullehre" , 13 chair professorships from the UARuhr came together to form the Ruhr School Of Design Thinking which aims to support student innovation and start-up ideas with mentoring through bundled, multidisciplinary expertise in design thinking.
During the kick-off event, student teams presented their interim results to more than 70 participants and received initial feedback. Seven teams from the TIE Institute - Technology, Innovation & Entrepreneurship and the Chair of Digital Transformation at TU Dortmund University were represented. In addition, the students got to know the mentors from the various chairs, who will be available to them until the final PitchDay at the end of January.
A big thank you to the hosts at the Center for Entrepreneurship & Transfer, Roland Kriedel and Sina Ramin Sadgeh Nadi, the exciting keynote speaker Dr. Philipp Wrycza from Logistikbude, and the entire Ruhr School organization team: Soumia El Mard, Esther Winter, Martin Ebel, Jens Pöppelbuß, Marie-Christin Barton, Florian Krohm, Christian Marx, Dominik Schmelter, Steffen Strese, Tessa Flatten, Dr. Simon Hensellek, Julius de Groot, Manuel Wiesche, Karsten Altenschmidt, Michèle Kuschel, Christian Meske, Stefan Stieglitz, and others.
#MentorInn #RuhrSchool #designthinking #entrepreneurship