Visit by Prof. Dr. Robert Ciuchita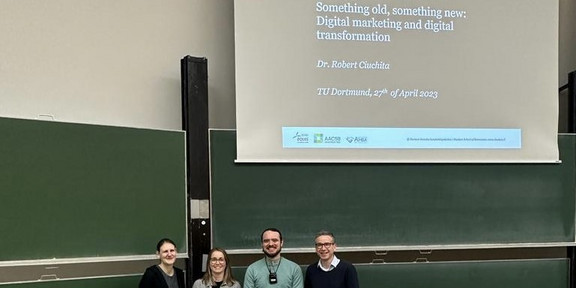 Last week we had the great pleasure to welcome Prof. Dr. Robert Ciuchita, Assistant Professor of Marketing at the Hanken School of Economics (Helsinki, Finland), to the Professorship of Marketing at TU Dortmund University. As part of the Gambrinus Fellowship Program, Mr. Ciuchita gave two very insightful and inspiring lectures on Digital Marketing and his academic path. Both the students of TU Dortmund University and the PhD students from, among others, TU Dortmund University, Christian-Albrechts-Universität zu Kiel, FU Berlin and Bergische Universität Wuppertal enjoyed his lectures very much. We also had the opportunity to work on our joint projects on AI in the service context.
Thank you very much for the visit, the talks and the great time. We are very much looking forward to seeing you again soon as well as for further collaboration.