Design Thinking Team Wins Final of Digital Future Challenge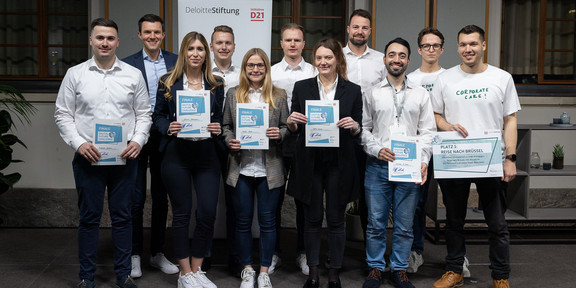 As part of the master's seminar "Design Thinking" at the TIE Institute - Technology, Innovation & Entrepreneurship, students this semester took on the Digital Future Challenge (DFC). The DFC is a student competition organized by the Deloitte Foundation and Initiative D21 e.V. under the patronage of Steffi Lemke, Federal Minister for the Environment, Nature Conservation, Nuclear Safety and Consumer Protection. In terms of content, the focus was on creative solutions for responsibly shaping the digital future in the context of sustainability and consumer protection. Topics included improving mental health, the optimal design of the home office and the efficient use of energy and data.
In the seminar, the student teams first worked out the concrete problem of the identified target group with the help of the design thinking method in order to subsequently find creative solutions for them. This showed that design thinking is an iterative process that is continuously influenced by new findings. In addition to the close, university-based supervision by Prof. Dr. Tessa Flatten, Désirée Martinez-Schroeder and Dominik Schmelter from the TIE Institute within the seminar, mentors from the Ruhr School of Design Thinkin were also available to the students. As part of the "MentorInn" program, teachers from the University Alliaz Ruhr (Ruhr Universität Bochum, Universität Duisburg Essen, Technische Universität Dortmund) provided support with a wide range of expertise and were available to the students in individual coaching sessions. Our thanks go to all those involved in this process.
After successfully passing the semi-finals on January 16, the three teams AppFinity, CorporateCare and TUSolar from the TU Dortmund qualified for the finals at the Federal Ministry. There, an exciting evening awaited the finalists with a speech by Federal Minister Steffi Lemke, panel discussions as well as the pitches of the five finalist teams. At the end of the evening, the CorporateCare team (Paul Wittinghofer, Konrad Kunz, Nathalie Rusch) was able to bring the victory back to Dortmund. Their idea is a smart break blocker for the home office that actively encourages employees to take breaks, e.g. relaxing lunch breaks including a cooking box or mindful walks in the sunshine. The first prize is a three-day study trip to Brussels, including a visit to the EU Parliament, for the entire team.
We would like to congratulate all three teams for their successful pitches (David Brinkhaus, Annika Hesse, Helen König, Jessica Schürmann, Erik Schwarz, Marvin Termöhlen, Alexander Jankovic, Dhulfiqar Al-Asadi) and the team of Paul, Konrad and Nathalie for the victory!