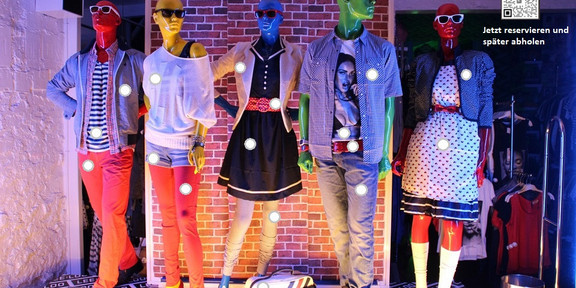 Increasing inner city attractiveness - participants wanted for experiments with a digital shop window
The TU Dortmund University has developed a digital shop window as part of the City Lab Südwestfalen. The aim is to investigate the potential of digital shop windows to increase city centre attractiveness and visitor frequency. The focus is on the question of whether customers make reservations for shop window products outside of shop opening hours. The digital shop window is intended to link off- and online. In concrete terms, this means that with the help of a QR code, customers standing in front of a closed shop can call up a digital version of the shop window, which offers them the opportunity to reserve goods. The reservations are then received by the retailer and the customer can pick up the desired product during opening hours.
Retail outlets and specialist shops can participate free of charge. The experiment will be individually adapted to the participating businesses and their circumstances and carried out in an individually agreed period of time.
Registration and further information is available from the TU Dortmund: christina.grosstu-dortmundde.
The City Lab Südwestfalen is a joint project of the Arnsberg, Hellweg-Sauerland Chamber of Industry and Commerce, the Südwestfälische Industrie- und Handelskammer zu Hagen, the Fachhochschule Südwestfalen and the Technische Universität Dortmund and is funded by the European Regional Development Fund.
Under the following link you will find all information about the project: City Lab Südwestfalen